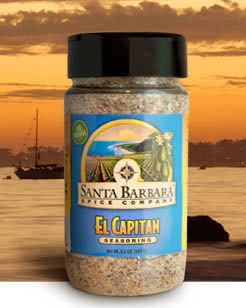 El Capitan Seasoning is a delicious artisan quality, all-natural rub and all-purpose seasoning blend that is perfect for grilling in the California central coast style.
"El Cap" contains NO MSG, sugars, cornstarch or corn meal, yeasts, fillers, preservatives, flavor enhancers or flow agents!
Try this amazing rub on tri tip and top sirloin for delicious grilling. Let El Capitan Seasoning be your secret ingredient on chicken, fish, pork, vegetables, or sprinkled on food right at the table!
$8.95 (5.2 oz bottle)